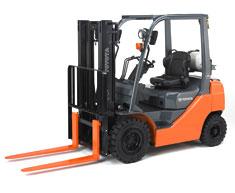 'F' ENDORSEMENT & OSH CERTIFICATE
'F' - FORKLIFT  ENDORSEMENT AND OSH CODE OF PRACTICE FOR
 FORKLIFT OPERATORS CERTIFICATE
There are two components to our Forklift course, the first is the 'F' Forklift Licence Endorsement and the second is the OSH Code of Practice for Forklift Operators, they are both completed in our one day course.
Forklift Endorsement - The 'F' endorsement means that you can drive a Forklift on a road. It is an endorsement that is placed on your licence and you must have a Full Class 1 (car) Licence in order to gain the 'F' endorsement.
OSH Certificate - The OSH Certificate is required in order to operate a Forklift. This can be gained without a licence but without the 'F' endorsement the certificate holder can only operate a Forklift within an enclosed yard or within a factory. This certificate must be renewed every three years (renewal price is discounted.) The OSH Certificate can be done without the 'F' endorsement but will still incur the full course price.
The course cost, including both the 'F' endorsement and the OSH Certificate, is $295.00 including gst.
If you are already a competent Forklift operator and have previously held your OSH Certificate but need to renew it at it's three year expiry date the renewal course fee is $195.00 including gst(Note: You attend the same one day course.) If you want to renew your OSH Certificate but got it without the 'F' endorsement and now want to gain your 'F' endorsement the full course and fee applies.
Click
here
for more information regarding our course fees.
For a group of 5 or more, with suitable equipment onsite, we are happy to run a course at your own premises. Contact us for further information.
Prices subject to change - current as at June 2021.