CLASS 2 LICENCE
A Class 2 Vehicle is a Medium Rigid Vehicle with a GLW
(Gross Laden Weight) of up to 18,000kg.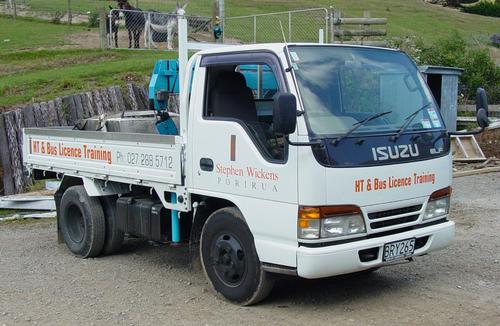 GETTING YOUR CLASS 2 LICENCE WITH PASSRITE
Q.: Have you had your Full Class 1 (car) Licence for at least 6 months?
YES - great, please see the next question below.
NO - sorry, you must wait until you have - it is a requirement to move onto the next step -
Q.: Do you have your Class 2 Learner's Licence?
YES - great, you can
contact us
and we can book you into a course now. Please read more about
the course below and then give us a call.
NO - you need to get this before you sit a course with us, please click here for helpful hints on
Q.: Do you want to get your Class 2 Licence the SLOW WAY or the FAST WAY?
THE SLOW WAY is to learn to drive with a supervisor for six months (must always have a
supervisorpresent to drive) and then take a suitable heavy vehicle with you to a licensing agency
(e.g. AA, some VTNZs) andsit a Full Class 2 Licence Test with a testing officer. If this is
yourpreferred option please call 0800 822 422 for more information.
Note: A supervisor is someone who has held the appropriate class of Full licence for what they are
supervising(in this case their Full Class 2 Licence) for at least two years.
THE FAST WAY
PassRite's Approved Course covers the skills necessary to drive the vehicle safely, as well as the
law related to Class 2 vehicles, work time, fatigue, and log books.
Our course has three main steps:
-1- Study the guide books and complete the pre-course self-test sections
-2- Sit the two theory sessions with an instructor
-3- Practical training and assessment with an instructor
The benefits of PassRite's Course:
- Eliminates the six month waiting period usually required on a Class 2 Learner Licence
- Includes a strong theory base, including how to use your driver's log book
- Includes practical training with a qualified instructor
- Includes the loading of NZQA Unit Standards (24089 and 17574)
- PassRite provides a Class 2 Vehicle for your practical training and assessment,up to 3 hours
drivetime with an instructor in the PassRite Class 2 is included in the course cost, made up of
approximately2 hours training and 1 hour for practical assessment (further training available at
- PassRite's Class 2 Vehicle is kept on location at 14 Broken Hill, Kenepuru, Porirua
The course is spread over at least three sessions, consisting
of two theory sessions and at least one practical session.On completion of our course the instructor 
will issue you with a certificate which youpresent at a licensing agency, and on payment of an
application fee to the agency ($49.60) theyput the Class 2 Full onto your Licence.
The cost of PassRite's Class 2 Full Licence Course is $1,145.00 including gst and up to three hours
drive time in our Class 2 Vehicle (current as at June 2021.) A non-refundable deposit of $200.00
is requiredwhen booking this course, with the balance due at the time of the course (certificate only
issued once payment is made in full.) Study materials will be provided on booking and these must
be read with the self-check questions completed prior to the course date.
Please note that you must be able to drive a manual vehicle to pass the Class 2 Full Licence Course
using PassRite's Class 2 Vehicle. You are able to pass the Class 2 assessment in an automatic
transmission Class 2 Vehicle if you are able to provide one for your practical training and assessment;
when providing your own vehicle for your practical assessment it must be loaded to NZ Transport
Agency requirements.
Pleasecontact usif you would like a written quote - we are a registered provider to Work & Income.
Clickherefor more information regarding our course fees.
Click
here
for the fees payable to the Licensing Agency.
Prices subject to change - current as at June 2021.